Panniculectomy Surgery – Are You Ready to Lose the Rest of the Weight?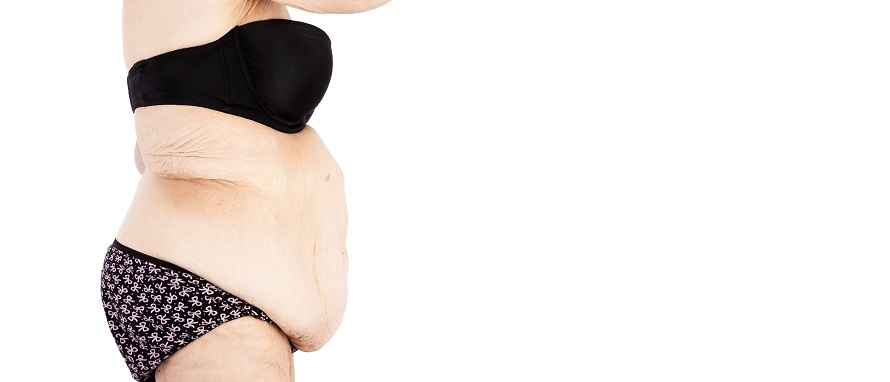 Panniculectomy is a body contouring surgical procedure that removes hanging fat and skin, typically after massive weight loss. It may be performed as a standalone procedure or combined with a tummy tuck (abdominoplasty).
Abdominoplasty tightens the abdominal muscle and removes excess skin and fat, while a panniculectomy only removes excess skin and fat (also called pannus). A panniculectomy may also be performed with another abdominal surgery, such as a hysterectomy, or with a repair of the abdominal wall or a belly button hernia.
Are You a Panniculectomy Candidate?
Panniculectomy candidates may have recently experienced significant weight loss after bariatric surgery to treat obesity or a post-pregnancy complication resulting in inordinate amounts of fat below the belly button.
Candidates may have fat extending as low as their knees, over their hips, genitals and around their back. This hanging pannus can cause a host of health issues including back problems, the breakdown of skin, rashes, ulcers, or skin disorders. These conditions may interfere with everyday life, and walking, standing, or sitting may become difficult.
Ideal panniculectomy candidates should be at a stable weight for at least one year. Individuals who have had the gastric bypass procedure or Lap-Band surgery should wait at least one year to undergo panniculectomy or any body contouring procedure such as the corset trunkplasty or bra-line back lift.
The Panniculectomy Procedure
Panniculectomy is most often performed by a board-certified plastic surgeon in a hospital or outpatient surgery center. The surgery may last several hours, is often performed under general anesthesia (while you are asleep) and requires a hospital stay ranging from one day to one week.
A vertical incision is made from the lower area of the sternum (breast bone) to the pubic bone. Another horizontal incision is made at the pubic area where the excess fat and skin can be removed. The skin that remains is then pulled together and closed. Drains may be inserted to get rid of excess fluid, and tape will be applied to the incision areas.
After Panniculectomy
Your surgeon will give you a complete postoperative instruction list to follow to reduce your risk of complications. This list will likely suggest sponge baths until instructed otherwise. Physical restrictions will likely include no exercise, no lifting of 10 pounds or more, and no application of pressure on the abdominal area. Your doctor may fit you for a support garment to wear at all times (except when bathing) during your recovery after panniculectomy. If drains were inserted, they will need to be emptied as instructed by the doctor. Dressings will also need to be changed.
Pain, swelling, and bruising are normal and can be managed with prescription medications.
Complications and Risks
Complications are possible with any plastic surgery. The most common panniculectomy complications include infection, bleeding, fluid collection (seroma), blood clots and excessive scarring. If these occur, notify your surgeon immediately.
Consult a Qualified Plastic Surgeon
Choose a board-certified plastic surgeon from the American Board of Plastic Surgerywho has extensive panniculectomy experience, as well as expertise in all areas of abdominal plastic surgery. Board certification requires specific and rigorous surgical education and training, which can help maximize your cosmetic results while minimizing your risk of complications. Ask to view before-and-after photos of patients with similar conditions who received a panniculectomy. Start the process now.
Panniculectomy Surgery Cost
Panniculectomy costs include three fees: the surgeon's fee, anesthesia fee and facility fee. Since the panniculectomy procedure is usually performed during an abdominoplasty, you only pay one anesthesia fee and one facility fee. Your treatment will be customized to fit your individual needs, so only an estimated range of costs can be given. Average total fees range from $8,500 to $10,000.
Insurance coverage for panniculectomy cost varies. If the procedure is strictly for cosmetic reasons, insurance will not foot the bill. This insurance issue is not isolated to panniculectomy or even plastic surgery. For example, dental insurance will not cover purely cosmetic procedures like Lumineers and teeth whitening. However, the insurance carrier may cover all or a portion of the costs if the procedure is deemed medically necessary.
If the cost of a panniculectomy is difficult, ask your doctor about patient financing.
About the Reviewers of This Article
Marialyn J. Sardo, MD, FACS, is a board-certified plastic surgeon in San Diego, California. She received her medical degree from the University of California, San Diego School of Medicine, Dr. Sardo trained in general surgery at the University of California, Los Angeles and Cedars-Sinai Medical Center. She received her training in Plastic and Reconstructive surgery at Boston University Medical Center.