Eyelid Surgery (Blepharoplasty) Is an Eye Lift Right for You?

Reviewed by Anthony Youn, MD & Foad Nahai, MD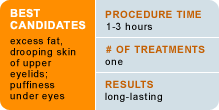 Eyelid surgery (blepharoplasty or eye lift) is a popular cosmetic plastic surgery to remove excess skin, fat or muscle from droppy upper and lower eyelids. Blepharoplasty improves baggy skin under the eyes, sinking upper eyelids or drooping eyelashes that impair vision. The surgery can also treat a medical condition called ptosis (drooping eyelid), which is caused by poor muscle tone or nerve damage. Ptosis causes the eyelids to hang very low and block vision.
Blepharoplasty treats drooping eyelids, but not drooping eyebrows or wrinkles. Blepharoplasty is often performed with another cosmetic surgery such as a brow lift or facelift to improve droopy eyebrows, crow's feet and facial sagging.
Another type of blepharoplasty known as Asian eyelid surgery is gaining in popularity worldwide. This procedure, performed on Asians with a "single eyelid," creates a crease where none exists.
Why Eyelid Surgery?
As we age, excess skin forms in the eye area, and the skin loses elasticity. Fatty tissue can accumulate under the skin. Your eyes will "look older" because these aging processes leave the eyes appearing tired, wrinkled or puffy. Even with good skincare and eyecare, wrinkles, puffiness and drooping eyelids will catch up to you. Genetic factors and body chemistry can cause these aging effects in younger people. Plastic surgery may restore a youthful and refreshed appearance to your eyes.
Is it Right for Me?
The best candidates for blepharoplasty are physically healthy, emotionally stable and well-informed about the procedure. Ideal candidates are typically at least 35, though genetic factors may indicate treatment for younger people. Candidates may be excluded if they have any of the following conditions: dry eyes, high blood pressure, hypothyroidism, cardiovascular disease, diabetes, glaucoma, or Graves' disease. Your anatomy, including bone and supporting structure, may also affect your candidacy. Male blepharoplasty may not be as common as female blepharoplasty, yet it nonetheless remains a popular procedure.
The Blepharoplasty Procedure
Your surgeon will make incisions along the line creases of the upper eyelid and possibly along the outer lower rim of the eye's skin. When removing fatty tissue, but not skin, the surgeon may perform a transconjunctival blepharoplasty with an incision inside the lower rim of the eye's skin. These incisions often reach the outer corners of the eyes. The surgeon then divides the fatty tissue and muscle from the skin so that excess skin, fat or muscle can be removed.
Eyelid surgery is often performed under local anesthesia — while you are sedated, numbed and awake — in an outpatient surgery center, surgeon's office or hospital. General anesthesia (meaning, while you are asleep) may be used. Be sure to discuss the appropriate type of anesthesia with your doctor and the anesthesia provider.
Depending on the extent of the procedure, time in surgery may be up to three hours. Patients return home typically within hours of the surgery.
After Surgery
Your eyes will likely be lubricated and covered with bandages after surgery. Oral medications will help with pain and discomfort during your eyelid surgery recovery. Report any unmanageable pain to your doctor immediately. The doctor will also prescribe an antibiotic to prevent infection.
You will receive a list of instructions to follow for several days, including:
the proper way to clean your eyes
use of cold compresses
use of lubricating eye drops
head elevation
no makeup
no alcohol
no television
no contact lenses
Stitches are removed about a week after surgery. Bruising and swelling will continue to decrease after stitches are removed. Sunglasses and protective sun block are required for several weeks.
Normal activities can resume after about 10 days, though strenuous activities such as lifting, bending and exercise can resume after about three weeks.
The Eyes Have It
Ever wonder how others rate your age and vitality? It's all in your eyes, according to a recent study out of the University of Tennessee Health Science Center in Memphis. The study findings, appearing in the February issue of Ophthalmology, may help you choose appropriate cosmetic surgery procedures, an important determination given today's tough economic climate.
Using eye-tracking methods, researchers analyzed where 47 young adults most often fixed their gaze when asked to evaluate signs of age or fatigue among older people. Although the "eye area" represents a mere 21 percent of the total face, study participants spent almost half of their time looking at this part of the face while assessing age. By comparison, the nose garnered about 19.2 percent, followed by the forehead (13.3 percent) and the area between eyebrows (10.6 percent).
In assessments of fatigue, study participants spent 44.7 percent of the time looking at the eyes, followed by the nose (18 percent), forehead (13.7 percent) and the area between eyebrows (12.3 percent). Researchers noted that the "mouth area" might attract more attention if videos were used (rather than static images) and subjects were talking.
These findings may help explain why eyelid surgery (blepharoplasty) ranked as one of the top five cosmetic surgery procedures performed in the United States in 2007. According to the American Society for Aesthetic Plastic Surgery, it was also the most popular surgical procedure among people aged 51 to 64 in 2007. The findings also speak to the popularity of Botox to erase the wrinkles around the eye such as crow's feet.
Complications and Risks of Blepharoplasty
Following surgery, you may experience tearing, itchy, burning eyes, dry eyes, light sensitivity and blurred or double vision, which can persist for several days. Lubricating eye drops. can relieve these complications. There will also be some swelling around the eyes. Scarring is another possible complication.
Sometimes patients have difficulty closing their eyes when asleep; though rare, this complication can be permanent. The lower lids may appear to be pulled down; this rare condition, called ectropion, may require additional surgery. The eyes may also look somewhat asymmetrical.
As with any surgery, eyelid surgery risks include infection and reaction to the anesthesia. You can avoid most complications by choosing the right plastic surgeon and following pre- and postoperative instructions. With proper precautions by the surgical team, complications are typically minimized or prevented.
Consult a Qualified Surgeon
Before deciding on blepharoplasty, discuss the options with a board-certified plastic surgeon and an ophthalmologist. The plastic surgeon and eye surgeon should have extensive experience performing blepharoplasty.
Surgeons can show you photos of other blepharoplasty patients with similar eyelids. You can look at these pictures to help create your individual surgical plan, as well as get a better idea of what to expect from plastic surgery.
Here are some questions to ask the surgeon:
Ask about credentials, training and the number of times the treatment has been performed in the practice.
Discuss the type of anesthesia to be used.
Find out where surgery will be performed (surgical suite, hospital, other facility).
Ask about the extent of the eyelid reshaping and any associated procedures you may be having.
Ask about the recovery period and limitations on your activities.
Ask for an explanation of risks, possible complications and likely results.
How Much Does it Cost?
Since blepharoplasty may be performed to reduce fatty tissue, skin and muscle, the extent of the procedure can vary, which makes it difficult to give a range or an average eyelid surgery cost. In fact, each eye may have a different cost. The average cost for blepharoplasty is hard to estimate accurately until you are examined by a surgeon and have discussed a surgical plan.
Blepharoplasty plastic surgery comprises three costs: anesthesia fees, facility fees and surgeon fees. Since blepharoplasty is often performed during a brow lift, facelift or chemical peel, anesthesia and facility fees can be combined with the other procedures. The total fees can range from $2,000 to $5,000 or more, depending on the extent of the procedure. In 2007, the national average for plastic surgeon fees for blepharoplasty was $2,480, according to the American Society for Aesthetic Plastic Surgery.
Some of the cost can be covered by insurance if the blepharoplasty is related to ptosis (drooping eyelid) or other medical necessity. Be sure to ask your surgeon about filing for insurance. Blepharoplasty for purely cosmetic reasons is not covered.
If you are having a medically necessary procedure and want to add on a cosmetic procedure performed at the same time, you can save out-of-pocket cost by combining the necessary and cosmetic procedures into the same facility and anesthesia fees. Other common cosmetic procedures to enhance the facial features use laser technology, such as laser hair removal.
Asian Eyelid Surgery
Asian blepharoplasty — also known as "double eyelid surgery" — is the most common aesthetic plastic surgery procedure performed in Taiwan, Thailand, Hong Kong and other parts of the region where plastic surgery is taking off in popularity, according to a recent report from the International Society of Aesthetic Plastic Surgery (ISAPS). Asian blepharoplasty is also growing in popularity in the U.S.
Asian blepharoplasty does not have universal application. As many as 50 percent of Asians are born with double eyelids, and there is considerable variation in the crease position above the eyelash line from patient to patient. Some people who pursue Asian blepharoplasty may want to appear more "Western," while others are interested in preserving their ethnicity and adding an eyelid crease.
The Procedure
Asian blepharoplasty reshapes the skin around the eyes to create an upper eyelid with a crease when no natural crease exists. This "double eyelid surgery" transforms a "single eyelid" into a "double eyelid." Sometimes a procedure called an epicanthoplasty is performed at the same time as Asian blepharoplasty to remove the epicanthal fold of the upper eyelid that partially covers the inner corner of the eye.
Several Asian blepharoplasty techniques are available to create the double eyelid, including the full-incision, partial incision and no incision (DST) methods. Each has its advantages and applications depending on your unique anatomy and desired outcome. The specific procedure chosen depends on whether the surgeon is creating a crease, changing the height of an existing crease or completing an incomplete crease.
For example, a surgeon may use internal sutures within the eyelid to create a new, permanent crease. A different approach involves making a tiny incision where a natural crease might appear to remove a small amount of fat and muscle, thereby creating the crease. In other cases, extra skin or fat on the eyelid is removed surgically or by using a laser.
In general, Asian eyelid surgery takes about one hour to perform under local anesthesia.
Choosing a Surgeon for Asian Blepharoplasty
Choosing a board-certified plastic surgeon with considerable experience performing this specialized procedure is important. The consultation is your chance to ask questions about the surgeon's experience. Some of the other areas you will want to cover during the consultation include the technique he or she recommends in your case, the risks and complications associated with the procedure, length of recovery you can expect and the overall cost of the procedure. Also ask the surgeon if you can see an album of before and after pictures of previous patients to get an idea of his or her aesthetic approach.
When your initial consultation is over, you should have a better idea of whether this is the surgeon you want to perform your Asian blepharoplasty, as well as solid information about how you should prepare for surgery and beyond, the medications to avoid before and after surgery, and what steps you should take during recovery to make sure you heal well.
Risks of Asian Double Eyelid Surgery
Asian blepharoplasty, like all surgery, has risks and benefits that should be understood upfront. While a bad reaction to anesthesia is not a common complication, it can occur. Asian blepharoplasty is also a more complicated surgery than traditional blepharoplasty, one that takes longer and requires going deeper into the eyelid to perform. Complete recovery after double eyelid surgery may take up to six weeks, though the average time may be half as long.
Other risks of Asian blepharoplasty include those commonly associated with traditional eyelid surgery: scarring, swelling, droopy eyelids, sagging eyebrows, asymmetry and general dissatisfaction with the cosmetic results.
During your initial consultation, your surgeon will provide you with a comprehensive eyelid surgery risk profile. He or she will also make sure you know what to expect during your eyelid surgery recovery.
How Much Does it Cost?
The cost of Asian eyelid surgery varies depending on where you have your surgery, but plan on spending somewhere between $3,000 and $5,000, with the higher end of the scale predominating in urban areas due to greater demand and higher overhead costs.
Typically, the eyelid surgery costs quoted by your surgeon include fees for the surgeon, anesthesia and operating facility. Be sure to pin down exactly what's covered before committing to surgery. If you've paid a consultation fee, check to see if it can be applied against the final bill.
There may be other costs involved such as painkillers, antibiotics and other medications related to the surgery like artificial tears, and ancillary surgical supplies like cold compresses. You also may need sunglasses to protect your eyes postoperatively and possibly camouflage make-up to cover any bruising that may occur. If costs are prohibitive, financing options may be available.
About the Reviewers of This Article
Anthony Youn, MD, earned his medical degree from the Michigan State University College of Human Medicine and completed his general surgery and plastic surgery training at the Grand Rapids, Mich., MERC Plastic Surgery Residency Program. He is a board-certified plastic surgeon and a member of the American Society of Plastic Surgeons, the American Society for Aesthetic Plastic Surgery, the American Medical Association, the Michigan State Medical Society and the Oakland County Medical Society. He practices at Youn Plastic Surgery in Troy, Mich.
Foad Nahai, MD, FACS, is a board-certified plastic surgeon and a Fellow of the American College of Surgeons. Dr. Nahai was the 2008-2010 president of the International Society of Aesthetic Plastic Surgery (ISAPS). In addition, he is a past president of the American Society for Aesthetic Plastic Surgery (ASAPS), a former director of the American Board of Plastic Surgery, and current editor-in-chief of Aesthetic Surgery Journal. He completed medical school in England and his post-graduate surgical training at Johns Hopkins University in Baltimore and Emory University in Atlanta. Before joining Atlanta's Paces Plastic Surgery in 1998, Dr. Nahai practiced at the Emory Clinic, where he was professor of plastic surgery at Emory's School of Medicine.