Botox Injections – Benefits, Cost & Side Effects
Medically Reviewed by: Scott R. Miller, MD, FACS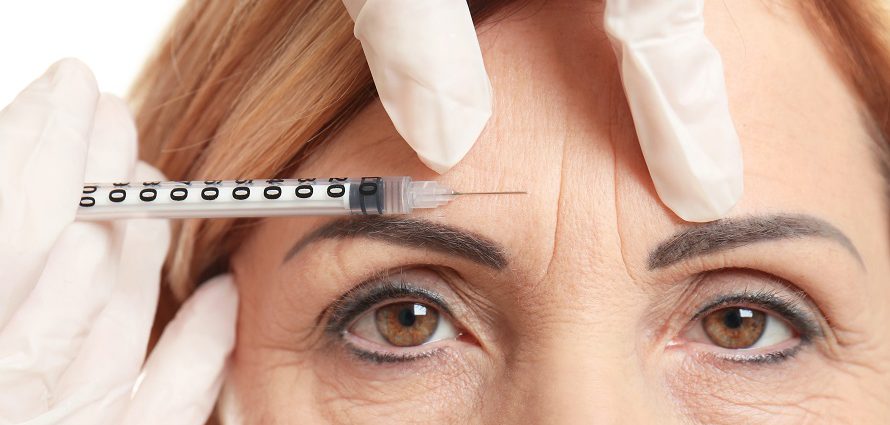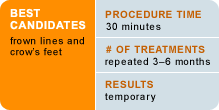 Botox was introduced to the world in the late 1980s by ophthalmologists, who began using it to treat optic muscle disorders. It was approved by the Food and Drug Administration (FDA) for the treatment of moderate to severe frown lines between the eyebrows (glabellar lines) in 2002, and its popularity has soared ever since. Botox is consistently one of the top five nonsurgical cosmetic procedures performed each year.
In addition to glabellar lines, Botox is used to eradicate crow's feet, frown lines, and lines and furrows in the forehead. Whereas treating crow's feet and forehead lines with Botox was for many years an off-label use, the toxin has since received FDA approval for both uses. Botox is also approved to treat a variety of medical conditions, including ocular muscle spasms, problems with eye coordination, severe armpit perspiration, migraine headaches, overactive bladder, urinary incontinence related to nerve damage from conditions such as multiple sclerosis and spine injury. Botox is being studied to determine if it might be useful in treating conditions such as knee and hip osteoarthritis, temporomandibular joint disorder (TMJ) and benign prostatic hyperplasia (BPH).
How Botox Works
Unlike soft tissue fillers such as Juvederm and Sculptra Aesthetic that add volume to skin depressions, Botox blocks the release of a chemical called acetylcholine which triggers the muscle contractions that create wrinkles.
Botox essentially paralyzes the muscles and stops them from contracting. Results are visible within one week after treatment and remain for a minimum of three months. Some surgeons suggest that Zytaze, a new prescription zinc supplement, can extend these results if taken in the days leading up to your Botox injections. Ask your doctor about Zytaze before your next Botox injection.
The Botox Procedure
Botox should only be injected with sterile instruments in a doctor's office or a medical spa — not at Botox parties at your local nail salon or neighbor's living room. Botox injection is usually performed with some local anesthesia or a numbing cream. You may feel some minimal discomfort from the shot, but today's needles are so thin and fine that the procedure is often painless. Depending on the extent of treatment, the procedure can take anywhere from a few minutes to 20 minutes.
Selecting the correct injection points is critical to the success of the procedure. These points are first scored with a marking pencil. Your doctor will likely select numerous injection points for each location to be treated. (These points are located where the muscle contracts — not necessarily at the wrinkle you are hoping to erase.) The Botox filler is then injected into the marked points beneath the skin.
You can resume normal activities immediately, but your doctor may advise you to stay out of the sun.
Botox Side Effects
The most common side effects of Botox include headache, nausea, flu-like symptoms and redness and pain at the injection site. Infrequently, patients experience muscle weakness or drooping of the upper eyelid muscles. This side effect usually resolves within days. In rare cases, however, upper eyelid drooping may last for months.
The FDA now requires black box labeling on Botox and similar products such as Dysport and Xeomin to warn of rare but potentially life-threatening swallowing and breathing complications if the toxin spreads beyond the injection site. None of these complications have occurred in people using Botox for cosmetic reasons and the FDA states that cosmetic use of Botox appears to be safe.
[Please click here for an update on the current FDA review of Botox after reports of adverse reactions among individuals receiving injections for non-cosmetic reasons.]
Alternative and Additional Treatments
There may be alternative treatment options, depending on your condition. Other minimally invasive procedures include collagen, Restylane, Laviv, fat fillers, vampire injections and Gortex. For severe wrinkling, surgical procedures may be more appropriate, such as a facelift, forehead lift and eyelid surgery.
Your doctor may recommend additional treatments for you to consider in conjunction with Botox. These might include chemical peel, laser skin resurfacing, or microdermabrasion.
Consult a Qualified Doctor About Botox
Many types of physicians perform Botox injections, including board-certified plastic surgeons, dermatologists and facial plastic surgeons. Botox shots require a precise knowledge of facial anatomy. Your risk of complications increases when Botox injections are performed by unskilled injectors. Start your search for a qualified injector now.
Botox Cost
The cost for Botox may range from $125 to $400 per treatment area. Multiple areas may be treated at one time, and repeat treatments are needed every three to four months, on average. When it comes to Botox and other injectables, you get what you pay for. Buyer beware: bargain Botox may increase your risk of complications, including poor cosmetic results. If the cost is prohibitive, ask your doctor about payment plans.