Choosing the Right Breast Implant Size
Medically Reviewed by: Dr. Genaro Valladolid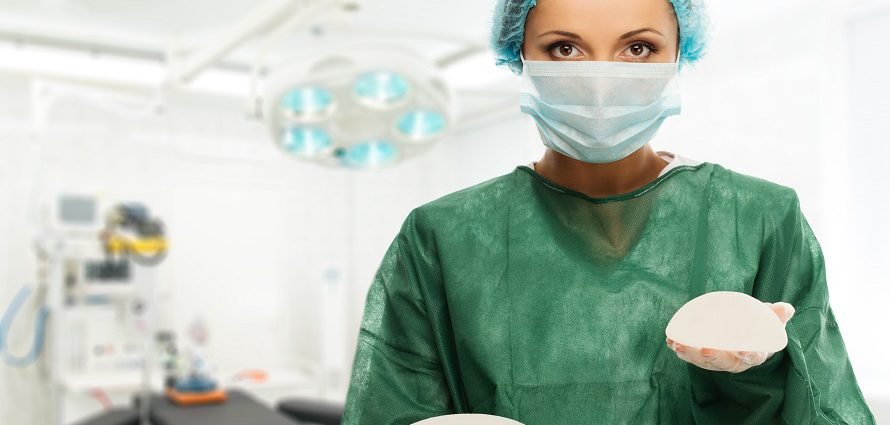 From the breast-enhancing exercises practiced by tween girls to the buxom cover girls and actresses plastered all over magazines, television and the Internet, it's obvious we live in a society obsessed with breast size. In this environment, it makes sense that many women opt for breast augmentation surgery each year.
But once you have decided on this plastic surgery procedure, how do you decide what size implant is best for you? Is bigger always better?
These are some of the most important questions to answer when you are considering breast enhancement surgery (also called augmentation mammaplasty). The answers will depend on your anatomy and goals, but having a clear idea of how big you want to go before your surgery will go a long way toward your satisfaction with the results.
Deciding on breast size is a personal decision. Just because your neighbor went from an A to a full C doesn't mean you can do the same. There are some important factors to keep in mind when sizing up your new breasts.
Implant Type Choices
There is no one-size-fits-all implant. Rather, there are different types of implants that come in various sizes.
In general, implants can be saline (salt water) or silicone gel. Both are readily available and each has its own set of advantages and disadvantages. Highly cohesive silicone gel implants, also known as gummy bear breast implants, are currently available in many countries and are being investigated for approval by the Food and Drug Administration for use in the United States.
Saline breast implants may feel like water balloons, while silicone implants feel more like natural breasts. With saline implants, it's easy to find leaks. Silicone breast implants, however, require magnetic resonance imaging (MRI) exams three years after breast surgery, and every other year after that, to look for leaks that may not be palpable or visible upon clinical exam.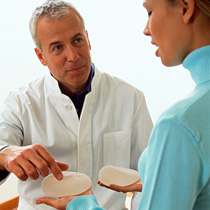 Size up Your Anatomy First
There is no substitute for accurate measurements. Your surgeon must determine how broad your chest is, the base width of your breasts and the distance between your breasts.
Another important factor is skin laxity or looseness. You must have enough tissue to cover the breast implant. It is also important to make sure your breasts are even (symmetrical).
Discuss Your Goals
Talk to your surgeon about your preferences regarding breast size. Bring in pictures of breasts that you find appealing. Tell your surgeon what you like about these breasts, and be as specific as possible. This discussion will help your surgeon get an accurate idea of what you want out of your breast enhancement surgery, and more importantly, whether it is feasible.
Perhaps you're interested in just a small (less than a cup size) enhancement; if so, breast augmentation fat grafting may be an option. During this procedure, fat is harvested from an area on your body where you have plenty (thighs or tummy), processed and injected into your breasts to enhance and sculpt them. Fat grafting to the breast is also used during tuberous breasts surgery as well as to fill in any imperfections after breast reconstruction or augmentation with traditional implants.
Forget About Bra Size
Not all bras fit the same. A Victoria's Secret C is different than at Warner's C. There is no real standardization. As a result, telling your surgeon you want to be a C or a D does not mean all that much. These are relative terms that can start a discussion, but are by no means the final word in deciding on breast implant size.
Speak in Volumes
So if not in bra size, then how do you express your desires?
Breast implant sizes are measured in cubic centimeters (cc's) and run the gamut from 120 cc's to 850 cc's. A lot of women may get hung up on cc's without giving thought to such individual variables as body and tissue type. When considering how many cc's you want, remember that the difference between a 300 cc implant and a 360 cc implant is really only two ounces.
Don't Count on Cleavage
Larger breasts don't necessarily mean more cleavage.
Cleavage is related to the natural space between your breasts and the size of the breasts. As the breasts get larger, the amount of cleavage usually increases, but the wider the space between your breasts, the less the effect implants will have on your cleavage.
Do Your Homework
You will never know what size is right unless you experiment. There are ways to determine what looks best on your frame without actually undergoing plastic surgery. One popular method is referred to as the rice test.
The Rice Test
Take a knee-high stocking and fill it with rice. For starters, try 300 cc's or 350 cc's. (There are 30 cc's to an ounce, which means that 10 ounces is 300 cc's.) Use a measuring cup for accuracy. Flatten out the rice in the hose and place it inside your non-padded bra. What do you think? Add or subtract rice based on how it looks.
Some women may prefer to use water in a Ziploc bag to get an idea of breast implant sizes. Allergan Inc., maker of the Natrelle collection of implants, offers a pre-consultation kit that includes sample implants and a profile bra to help women make these important choices about breast size before surgery.
These are also ways to communicate your desires and expectations with your plastic surgeon. He or she will then try to meet these goals with an anatomically appropriate implant choice.
Remember that volume refers solely to size, not breast shape. If your breasts have changed shape, a breast lift in conjunction with breast implants can help raise and firm your breasts.
Host Your Own Fashion Show
Once you have identified a volume that you like, try it on under a tailored shirt or jacket to make sure it will button without puckering. Also, try your faux implants on under something that is oversized, like a sweatshirt. Some women — especially shorter women — may find that the breast enhancement makes them look like they gained weight, and may want to go smaller.
Establish Limitations: What is too Big?
Once you think you have found the right size, go bigger. See how it looks and feels. The majority of women who undergo revision breast augmentation surgeries do so because they wish they'd gone bigger. This exercise can help you eliminate any doubts and potentially avoid another surgery.
Complications can occur when unsuitably large breast implants are used. One example is the breast augmentation double bubble complication, which occurs when one or both implants drop down below the natural inframammary crease. This shifting creates an indentation that runs across the lower pole of the breast, creating a "four breast effect." If double bubble does not correct on its own, revision surgery can be performed.
Listen to Your Surgeon
Listen to what your surgeon has to say about your choice. If he or she thinks your selection is too big for your frame, consider going smaller. Implants that are too big for your body can cause excessive stretching and thinning of the skin and tissue around your breasts.
Breast Implant Profile
Once you decide on the volume and type of implant, let your surgeon guide you in choosing the projection/profile of the implant. This refers to how far the implant protrudes from your chest. Implants can be high profile, moderate profile or low profile.
High profile implants can allow you to have more volume in a narrower width. Like implant volume, this decision is based on your anatomy. If a woman chooses 350 cc, a high profile implant will offer a lot of projection, but if she is too broad in the chest, the implant will not be wide enough. A skilled surgeon can guide these decisions and make sure you get the desired aesthetic result.
Breast Implant Surface Texture and Shape
Your surgeon can also help you select the correct implant surface. Implants can be smooth or textured. Initially, textured implants were thought to confer a lower risk of capsular contracture (thick scar tissue around the implant) than smooth implants, but most surgeons are finding that the rate of capsular contracture is comparable between the two. Texturing on an implant, whether saline or gel, does make it feel more like natural breast tissue.
The shape of the implant is another factor for you and your surgeon to discuss. The decision on implant shape is also based on individual factors such as body size and shape, skin quality and goals.
Today, breast implants can be round or teardrop shaped. Round implants are circular, meaning that they provide similar degrees of projection on the upper and lower parts of the breasts. Teardrop-shaped implants are considered more anatomically correct. However, tear-drop shaped implants must have a textured surface to prevent the implant from rotating. The textured surface creates an adherence between the implant and your breast tissues, enabling the implant to stay in place.
Choosing the right sized implant involves a two-way conversation between you and your surgeon. Express your desires as best as possible, and trust your surgeon's expertise. Start your search for the right surgeon and begin this conversation now.
About the Reviewer
Dr. Genaro Valladolid is a Board-certified plastic surgeon with advanced mastery of plastic surgical techniques including such complex procedures as gender confirmation surgery, cancer reconstruction and complicated abdominal wall hernias.
Dr. Valladolid founded Valladolid Plastic Surgery – with locations in Scottsdale, Mesa and Phoenix, AZ – with the aim of providing premier cosmetic and reconstructive services to patients in and around Arizona.
He graduated from the top of his class at the medical school of Universidad Autonoma de Baja California and studied surgery at the University of Illinois at Chicago's Metropolitan Group of Hospitals.