Breast Implants Surgery – Get the Bustline You Want
Medically Reviewed by: Dr. Arnold Breitbart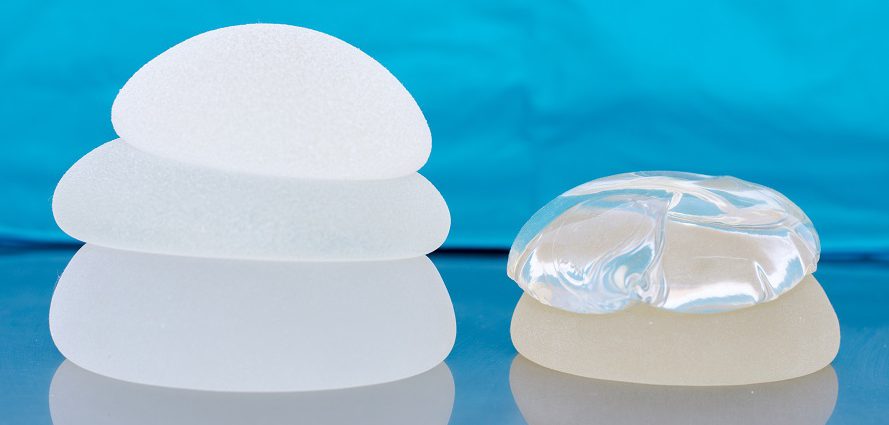 Each year, hundreds of thousands of women undergo breast implant surgery, a plastic surgery procedure designed to improve the appearance of the breasts. Also called breast augmentation surgery, most women undergo the procedure to enlarge breasts that are naturally small, though some have it to correct disproportionate breasts or repair breast deformities.
Breast implants are also sometimes used in breast lift surgery, in which saggy, drooping breasts are repositioned higher on the chest. Combining breast augmentation and breast lift allows the surgeon to add volume as well as create a perkier, more youthful bustline.
In addition, women undergoing breast reconstruction following a mastectomy or trauma to the chest may have implants placed in their chest as part of that procedure.
Silicone vs. Saline Breast Implants
If you are considering breast implant surgery, one of the first questions you will need to ask is, Which breast implant is right for me?
There are two main types of breast implants: saline and silicone. Each type has the same basic implant anatomy — a rubbery silicone shell with filling. The difference is in the filling. Saline implants are filled with a saline (salt and water) solution, while silicone implants are filled with silicone gel.
Each type of implant has advantages and disadvantages. For example, silicone implants are considered more natural to the touch, but saline implants cost less.
Potential side effects of the two implant types also differ. For example, if the shell of a saline implant ruptures, the resulting effect is obvious because the saline drains from the implant (and is harmlessly absorbed by the body). However, if a silicone implant ruptures, the resulting effect may not be evident right away.
In either case, surgery will be necessary to remove or replace the ruptured implant. More information about removal of breast implants is available here.
The Safety of Silicone Breast Implants
In the past, concerns emerged that silicone implants posed health risks, including an increased risk of systemic diseases such as lupus and arthritis. The Food and Drug Administration (FDA) placed a moratorium on silicone implants in 1992 so the safety of these devices could be studied. However, in 2006 the agency concluded that there was no evidence of risk and lifted the moratorium.
In fact, the FDA has now approved three new "gummy bear" silicone implants as well: Allergan's Natrelle 410, Sientra's line of form-stable implants and Mentor's MemoryShape. These implants are filled with a highly cohesive, form-stable type of silicone gel that has the consistency of gummy bear candies (thus the nickname).
For a complete review of the history of silicone breast implants, see our page on implants and the FDA.
Your Breast Implant Surgery Consultation
The first step in the breast implant surgery process is a consultation with a board-certified plastic surgeon who has extensive experience performing various types of breast surgery. During this meeting, the surgeon will perform an examination of your breast tissue, discuss your goals for surgery and tell you what you need to know about breast implants. Based on his or her examination, the surgeon will determine whether you are a candidate for surgery.
Once the surgeon has deemed you a candidate for surgery, he or she will discuss all your implant choices, including whether to go with saline vs. silicone implants as well as the size, shape and texture of your implants.
Implants come in various sizes, and your surgeon will guide you on choosing the right size to help you achieve the look you desire. In addition, your surgeon will help you decide whether you want a more natural, teardrop shape or a more rounded look.
During your consultation, your surgeon will also answer the question, What does breast augmentation cost?
Placement of Breast Implants
Another important decision to be made prior to surgery is where to place the implants in relation to your breast tissue and chest muscles. There are three basic breast implant placement options:
Subglandular, or above the pectoral muscles – In this placement, the implants are situated behind the breast tissue but in front of the chest muscles.
Partial submuscular, or partially behind the muscles – In this case, the implants are placed behind the breast tissue and partially behind the muscles.
Complete submuscular, or completely behind the muscles – With this placement, as the name makes clear, the implant is placed fully behind the muscles.
The best placement for you will depend on several factors, including your lifestyle, the amount of natural breast tissue you have, the size of your implants and your desired appearance. Only a board-certified plastic surgeon can help you make this decision.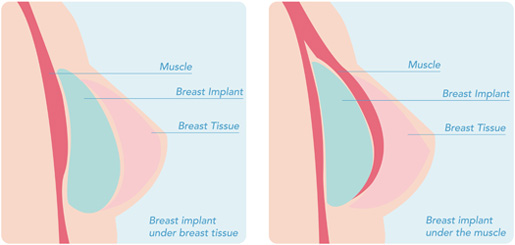 Placement of Surgical Incisions
The location of your surgical incisions is also a key decision you must make in consultation with your surgeon. There are four options for your breast implant incisions:
Under the breast (inframammary incision) – The surgeon makes incisions in the folds where the breasts meet your body.
Around the nipple (periareolar incision) – The surgeon creates incisions along the edges of the areolas.
In the armpit (transaxillary incision) – The surgeon gains access to your chest through incisions that are well-concealed in your underarm area.
In the navel area (transumbilical, or TUBA, incision) – The surgeon makes an incision around your belly button and places the implant in your chest by means of a tunnel through your body cavity.
Your surgeon will help you choose the incision type that is best for you.
Male Breast Implant Surgery
While most breast implant surgery patients are women, men who desire a more masculine look sometimes undergo surgery to receive male breast implants. Unlike breast implants for women, which are relatively soft and rounded, male breast implants are smaller and harder, and are designed to enhance the size of the chest's pectoral muscles.
For more information on breast implant surgery, contact a surgeon from our network of board-certified plastic surgeons.
Start your search for the right surgeon now.
About the Reviewer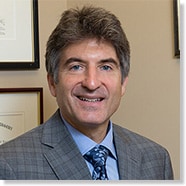 Arnold S. Breitbart, MD, FACS, is a highly skilled plastic surgeon who is board certified by the American Board of Surgery and the American Board of Plastic Surgery. Dr. Breitbart has advanced fellowship training in craniofacial surgery, microsurgery and breast reconstruction, and has been selected multiple times by Castle Connolly as one of the "Top Doctors in America."