Chemical Peels – Can They Help You?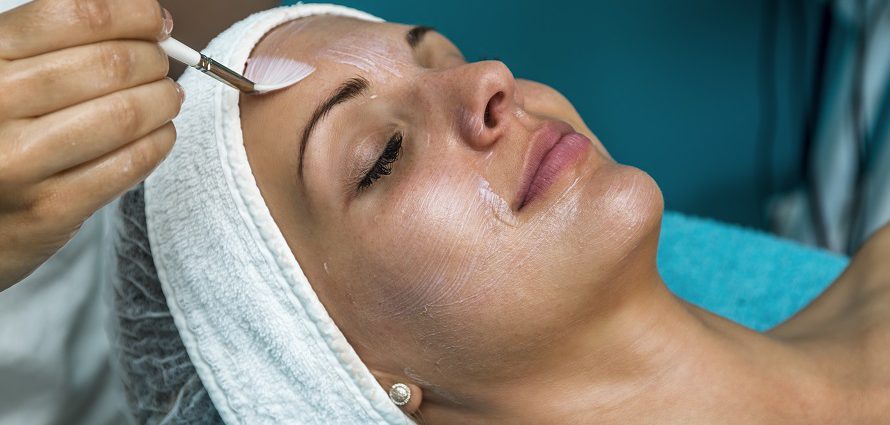 Reviewed by Linda Nelson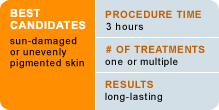 Chemical peel is one of the most popular treatments for an aging face. In the United States, 1.03 million chemical peels were performed in 2007.*
Reasons to Have Chemical Peels
Chemical peels can improve the appearance of:
Fine lines
Hyperpigmentation (skin discoloration or age spots)
Enlarged pores due to an improper daily skincare regimen
Light sun damage
Light freckling
Minimal scarring
Treatment for the face, arms, legs, neck, chest and hands
The Chemical Peel Solution
Many types of chemical peels are on the market today. They may include just one chemical, such as glycolic acid or trichloroacetic acid, or a combination of chemicals. These chemical solutions come in various strengths, and chemical peels are often classified as either a light or superficial peel, medium peel or deep peel.
Your doctor will choose the appropriate strength and combination of chemical agents based on the condition of your skin.
The Chemical Peel Procedure
Chemical peels are performed in a doctor's office. Deeper peels require anesthesia, but lighter peels often do not. The procedure takes about 15 minutes, then one to three weeks of recovery.
The number of treatments varies among individuals. Results can last up to several months.
During the procedure, the chemical solution is applied to the affected area (usually over the entire face). The chemical agents then work to separate and "peel" the outer surface layers of the skin. These layers often contain dead skin, which is removed during the process. The chemical agents stimulate the generation of new skin cells through the healing process.
During the application, you may experience a cool, warm or hot sensation that can last for 10 minutes or more. You may also feel a stinging sensation.
Recovery After Your Chemical Peel
To promote healing and reduce the risk of complications, follow the directions of the treatment provider very carefully. You'll likely be told to avoid all makeup and stay out of the sun for up to two weeks. You will need sunblock with an SPF of 15 or higher before you go outside.
Your skin's reaction to a chemical peel depends on many factors, including skin type and peel strength. During the first two weeks the skin may break out until it is renewed at the end of recovery. Additional reactions can be similar to sunburn.
Lighter peels can produce redness and skin peeling for a few days. Deeper chemical peels can result in blisters that burst, scabs or skin peeling for up to two weeks. This may be accompanied by swelling.
If you have a severe reaction, your doctor may prescribe ointments, creams, oral steroids or dressings. The treated skin is highly susceptible to injury, so take care of it.
The treatment provider will recommend a daily skincare regimen that is essential to the healing process. Be sure to follow the regimen and report any problems that result from the peel or from the new skincare regimen.
The aging process, including new fine lines and age spots, will continue over time. A maintenance program of chemical peels may be part of your long-term plan.
Additional or Alternative Treatments for Your Skin
Many skin conditions and imperfections can be treated with a chemical peel, but it can't improve the appearance of:
Deep wrinkles
Sagging, hollow or fatty skin
Deep sun damage or freckling
Deep scarring
Other treatment options include facelift, brow lift, chin implant and cheek implants.
Laser skin resurfacing, Thermage, collagen injections, Botox and Restylane can be incorporated into your treatment plan as well. For deep scarring, laser scar removal may help.
Combination treatment plans tend to be the most successful strategy for aging skin.
Consult a Qualified Doctor
Talk to a qualified doctor about your goals and the treatment options available for your condition. Dermatologists and plastic surgeons have extensive experience with anti-aging procedures. Licensed estheticians and registered nurses perform most chemical peels in the doctor's office, while deeper peels may be performed by the dermatologist or plastic surgeon.
Here are tips for choosing a chemical peel treatment provider:
Review their credentials, education, training, type of certification held and the number of times they have performed chemical peels.
View before-and-after photos of patients with similar conditions who received chemical peels and alternative treatments.
Ask about the type of chemical peel to be used, the strength of the peel and possible side effects. Each peel type has its own advantages and disadvantages.
Ask how many treatments you'll need to achieve and maintain your improved skin.
Ask about the support available during your healing process. Support may be by phone or email, possibly 24 hours a day, seven days a week.
Ask for a list of pre-op and post-op instructions.
The Cost of Chemical Peels
Chemical peel costs include the:
Number of treatments required to achieve the desired result
Ongoing treatments required to maintain the result
Anesthesia
Type of peel
Aftercare daily skincare regimen
Costs vary among treatment providers and skincare manufacturers. Often package pricing is available for multiple treatment sessions and the aftercare skincare regimen. Costs for the peel itself can range from $75 to $600 or more. Annual costs for a daily skincare regimen can be $750 or more.
About the Reviewer of This Article
Linda Nelson is the director of education for ZO SKIN HEALTH, by Zein Obagi, MD. She is based in Irvine, Calif.
*American Society of Plastic Surgeons