Mommy Makeover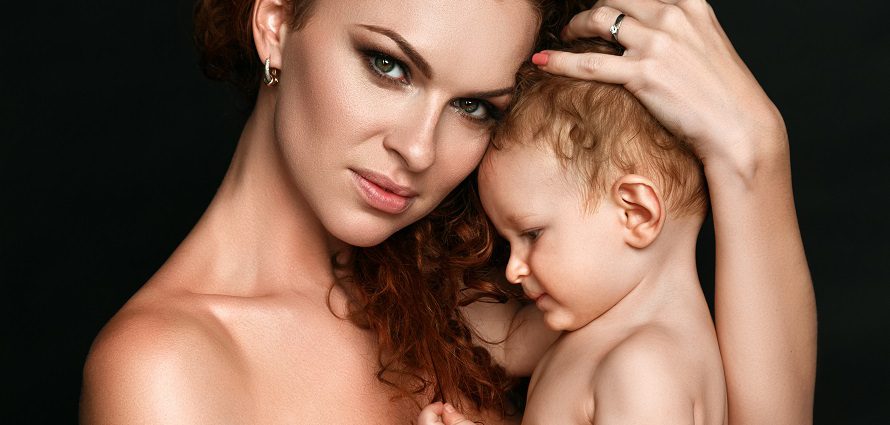 Reviewed by and Dennis J. Hurwitz, MD, FACS
Morning sickness. Weight gain. Heartburn. Food aversions. Skin changes. Fatigue… When you are pregnant, it can feel as though your body no longer belongs to you, but you take it all in stride.
Unfortunately, your body does not just snap back into shape even after your life returns to normal and your little one starts sleeping, walking, talking and going to school. Pregnancy takes its toll on your body, especially your breasts and abdominal areas.
A mommy makeover, however, may help you look and feel your best.
Mommy Makeovers Counter the Physical Effects of Pregnancy
On average, most women gain 25 to 35 pounds during pregnancy. This weight is stored as fatty tissue in the breasts, abdomen, flanks (love-handles), hips, lower back, buttocks and thighs. The breasts also grow due to weight gain and to prepare for nursing. But don't despair, a mommy makeover can help you look your best again.
As the baby grows, so does the abdomen. This may result in a weakening and separation of the abdominal muscles, and stretching of the abdominal skin. This stretching may cause a breakage of the skin collagen, also known as stretch marks. These unsightly marks are purple-red in color and concentrated around the belly button and lower abdomen.
These effects often become even more apparent after childbirth and nursing. A mommy makeover can help reverse these effects.
Many new moms do lose the excess weight – eventually. Unfortunately, the weight loss is not proportional to the amount of fatty tissue in a given area. That means for some, more weight may be lost from the breasts or buttocks than the abdomen and waist.
The result? Smaller breasts despite fullness of the waist and abdomen. In these cases, a mommy makeover may be in order.
Once a woman finishes breastfeeding, the breasts deflate even further and begin to sag. The weak abdominal muscles and the excess abdominal fat appear as fullness and bulging of the belly. Many new moms may still look pregnant even as their child is taking his or her first steps. Once again, a mommy makeover can help.
What is a Mommy Makeover?
A mommy makeover is performed using a unique combination of plastic surgery procedures designed to counteract the physical effects of childbearing, and restore and enhance your body.
The mommy makeover trend is becoming so pervasive that there is even a children's book – My Beautiful Mommy – by Florida plastic surgeon Michael Salzhauer that helps moms explain the procedures to their children.
In general, a mommy makeover may include:
Breast augmentation
Breast lift
Tummy tuck (abdominoplasty)
Butt lift
Liposuction
Mommy makeovers can include any or all of these body contouring procedures depending on your wishes and needs.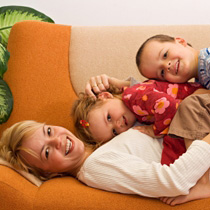 For example, some women need breast augmentation to correct severely deflated "pancake" breasts, while others may need breast implants in combination with a breast lift. Still, some women may actually desire a breast reduction with a lift.
In the abdominal area, many women need a full abdominoplasty with tightening of the muscle layer as well as removal of the excess skin and fat, while some may need a mini-abdominoplasty.
Some women may also benefit from liposuction to sculpt the back, hips and thighs; and smooth out their contours.
Finally, an increasing number of women have also been requesting a buttock lift and other buttock-enhancing options such as the Brazilian butt lift as part of their mommy makeover. The length of the surgery varies based on the amount and type of procedures performed. Some surgeons may perform a mommy makeover as two or more separate operations.
Want a personal perspective? Read about Christy Carlson's real life mommy makeover experience.
Preparing for Your Mommy Makeover
It is important to ask yourself certain questions before deciding to have a mommy makeover.
They include:
Are you done having children?
If you plan to have more children, wait. The vertical muscles in the abdomen (which are tightened during a tummy tuck) can re-separate.
Are you at a stable weight?
Being at a stable weight before surgery can help maximize the results. Lose all your baby weight with diet and exercise before having plastic surgery.
Are you finished breastfeeding?
You should wait until you are finished breastfeeding before having breast surgery because the enlarged ducts and increased blood vessel activity of the breast during nursing increases bleeding and the risk of infection.
What body parts have changed since you had children?
Your plastic surgeon can help you devise a personalized mommy makeover that targets these trouble areas in one or more surgeries.
The next step in preparing for your mommy makeover is discussing your options with a board certified plastic surgeon. Your surgeon will help determine if your expectations are reasonable and develop a plan for your mommy makeover. Most surgeons recommend that you wait six months or more after having a baby before considering cosmetic surgery. This allows for ample time to give your body and your life a chance to normalize.
Once you set a date for your surgery or surgeries, you will be given a list of preoperative instructions. These may vary based on your doctor's preferences and the type of procedure(s) you are undergoing.
Your doctor will likely tell you to stop smoking and drinking alcohol as these can impede healing. It is also a good idea to avoid aspirin and non-steroidal anti-inflammatory drugs which are known to increase the risk of bleeding. Certain herbal supplements can also increase bleeding risk, which is why it is paramount to tell your doctor about everything that you are taking.
In addition to what you should stop taking, your doctor may also suggest that you take certain herbs and supplements like bromelain and arnica to help reduce bruising and swelling.
Recovery
Your recovery process will vary based on what your mommy makeover entails. Still, there are some basic precautions and instructions that you can take to help this recovery go as smoothly as possible, including:
Arrange for someone to help you get around the house and help you with your medication for at least the first 24 hours after your mommy makeover. You may need medication for the pain and to control nausea caused by the pain medication.
Try sleeping on several pillows on your back and keep your legs slightly bent at the hips to minimize the tension on your incision, reduce pain and result in a thinner scar.
Avoid heavy lifting, contact sports and jogging for up to six weeks.
Call your surgeon immediately if you notice an increase in swelling, pain, redness, drainage, bleeding in the surgical area or if you develop fever, dizziness, nausea or vomiting. Other red flags include shortness of breath, chest pains and unusual heartbeat.
Your surgeon will likely supply you with a surgical bra to wear early in your recovery after breast reduction or breast lift. This will help minimize swelling. Most swelling should subside within a few weeks, although some swelling may persist for up to four months after breast reduction.
You will need to wear an abdominal binder during your tummy tuck recovery. You can shower once the dressing, sponges and gauze pads are removed. This usually occurs within 72 hours of your mommy makeover. After showering, pat your incisions dry and replace your abdominal binder.
You will likely go back for follow-up with your surgeon within five days. During this visit, your doctor can remove the drainage tubes. Swelling should subside within five weeks, and the results are apparent in within three months.
Mommy Makeover Risks
All surgeries have risks, though longer surgeries that involve multiple parts of the body increase these risks. Risks may include (but are not limited to):
Unfavorable scarring
Bleeding
Infection
Poor wound healing
Anesthesia risks
Deep vein thrombosis, cardiac and pulmonary complications
Possibility of revisional surgery
Unsatisfactory results
Mommy Makeover Cost
The cost of your mommy makeover will vary based on the body contouring procedure(s) involved and could include liposuction, tummy tuck and breast augmentation cost. Multiple procedures often increase operating time, which can result in higher fees.
In general, the cost of sugary includes the surgeon's fee, anesthesia fee, implant fees (if applicable) and the operating room fee. For basic information on the cost of the plastic surgery procedures included in a mommy makeover, check out our article on plastic surgery cost. The costs for mommy makeover are typically one-time fees. If additional skin procedures are desired, then fees may be ongoing for multiple treatments, as would be the case for the cost of laser hair removal.
About the Reviewers of This Article
Siamak Agha-Mohammadi, MD, PhD, is a board-certified plastic surgeon in Orange County, California. He received his medical degree and completed his doctor of philosophy degree at the University of Cambridge in England and did his residencies in general surgery and plastic and reconstructive surgery at the University of Pittsburgh Medical Center in Pittsburgh, Pennsylvania. An expert in aesthetic surgery after massive weight loss, Dr. Agha-Mohammadi has published articles in many prestigious journals and is a frequent presenter at major medical meetings.
Dennis J. Hurwitz, MD, FACS, is the director of the Hurwitz Center for Plastic Surgery in Pittsburgh, Pennsylvania, where he specializes in body contouring, facelift, rhinoplasty and cleft lip repair. Dr. Hurwitz is a clinical professor of surgery at the University of Pittsburgh and is board certified by the American Board of Plastic Surgery and the American Board of Surgery. He is a member of the American Society for Aesthetic Plastic Surgery, the American Society of Plastic Surgeons and the American Association of Plastic Surgeons. Dr. Hurwitz is the author of Total Body Lift: reshaping the breasts, chest, arms, thighs, hips, back, waist, abdomen, and knees after weight loss, aging and pregnancies. He is also past medical director of the University of Pittsburgh Cleft Palate Craniofacial Center.