Eliminating Back Fat Rolls with the New Bra-Line Back Lift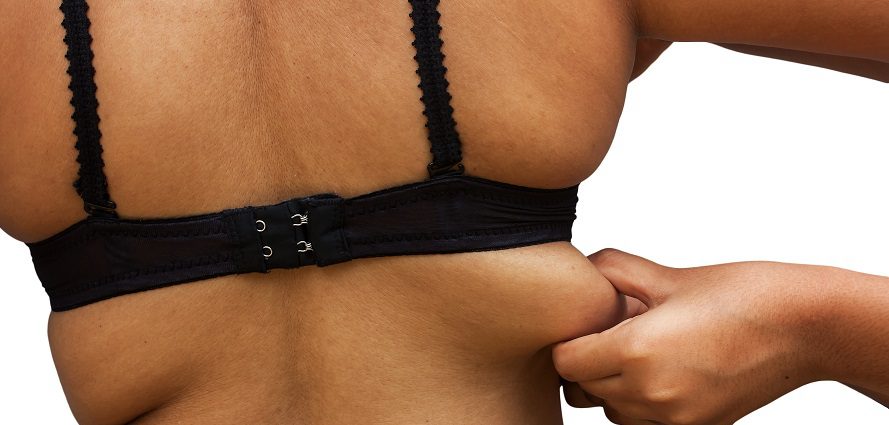 Reviewed by Joseph P. Hunstad, MD, FACS
You exercise regularly, are back in your skinny jeans and arguably look the best you've looked in years, but there's one problem — that back fat roll (or rolls) above or below your bra line. These rolls and bulges typically occur from aging and, as you're finding out, they can't be exercised away.
Sound familiar? If so, a new bra-line back lift procedure that removes these unsightly bumps and bulges while hiding the scar under the bra line may be just what the plastic surgeon ordered.
Introducing the Bra-line Back Lift
This surgery doesn't remove back fat. Liposuction is still the No. 1 way to remove pockets of unwanted fat in any area of the body, including pockets of back fat.
Ideal candidates for the bra-line back lift are those with sagging skin caused by aging, sun exposure or massive weight loss such as that which occurs after bariatric surgery. While it is not for women only, men do not tend to develop sagging skin or back fat rolls from aging and sun exposure at the same rate as women do. Men may benefit from the new bra-line back lift if they have lost a significant amount of weight, but the fact that the scar may be hidden under a bra or bathing suit is not as much of a selling point for a man.
Preparing for the Bra-line Back Lift
Your surgeon will give you a list of instructions on what to do and what not to do in the days before you undergo the bra-line back lift. This may include guidelines on eating and drinking. He or she will also discuss the importance of quitting smoking at least 30 days before bra-line back lift. Smoking greatly increases the risks of any surgery, and the bra-line back lift is no exception.
Certain medications, such as aspirin and nonsteroidal anti-inflammatory drugs, may promote bleeding and should be discontinued before surgery. Your surgeon will advise you on which medications you should stop taking before the bra-line back lift. Never stop taking prescribed medications without first talking with your surgeon and with the doctor who prescribed them.
Prior to surgery, women are asked to sport a revealing swimsuit or bra. The surgeon will then mark up the area. These preoperative markings outline the patient's brassiere, as well as delineate the excess back tissue to be removed.
The surgeon will likely use general anesthesia. The actual surgery takes about an hour. The surgeon cuts across the woman's back and removes the excess folds or bulges of skin and then connects the remaining skin back together.
Benefits of the Bra-line Back Lift
Hidden bra-line scar
Improved appearance
Improved self-esteem
Immediate results
Risks of the Bra-line Back Lift
Scars across the back are present, but if this surgery is properly performed, the scar looks like a thin line.
Anesthesia risks
Bleeding
Infection
Death
Highlights of the Bra-line Back Lift
Hidden scar
Short recovery time
High level of patient satisfaction
Low complication rate
After the bra-line back lift
Women can wear a bra or garment of their choice starting the second week after surgery to remove back fat rolls. For the next few weeks most women prefer a comfortable bra with a wide transverse strap.
After undergoing this surgery to remove back fat rolls, your plastic surgeon will tell you to avoid:
Vigorous exercise
Heavy lifting
Excessive flexing from the waist and thorax (the area between the neck and the diaphragm)
Raising your arms above your head
Baths, hot tubs, swimming or submerging the surgical site under water. Showering is permitted 24 hours after surgery.
After two weeks, people who undergo the bra-line back lift can increase their activity levels if they are not feeling excessive tightness or discomfort.
Cost of the Bra-Line Back Lift
The bra-line back lift costs about $7,500 to $10,000. It is not usually covered by insurance as it is an elective, cosmetic procedure. The issue of insurance coverage is not reserved for bra-line back lift surgery, or even plastic surgery. In fact, dental insurance seldom provides coverage for esthetic procedures like Lumineers and tooth bleaching.
Choosing a Board-Certified Plastic Surgeon
Since this is a relatively new procedure, choosing a plastic surgeon that has experience performing the bra-line back lift is the key to success and satisfaction. Surgeons with the most training include plastic surgeons who are board certified by the American Board of Plastic Surgery. This assures they are up to date on the latest technologies and techniques.
About the Reviewer of This Article
Joseph P. Hunstad, MD, FACS, is a pioneer of the bra-line back lift. He is president of the Hunstad Center for Cosmetic Plastic Surgery PA in Charlotte, N.C. Dr. Hunstad is past president of the North Carolina Society of Plastic Surgeons and past president-elect of the Lipoplasty Society of North America. He is also on the board of directors of the Body Contour Research Foundation. He is certified by the American Board of Plastic Surgery and is a fellow of the American College of Surgeons. Dr. Hunstad has published more than 40 plastic surgery articles on body contouring and face lifts, as well as numerous chapters in plastic surgery textbooks.
Source: Hunstad JP. Repta R. Bra-line back lift, Plastic and Reconstructive Surgery. 2008, 122:1225-1228