Laser Hair Removal – Remove that Unwanted Hair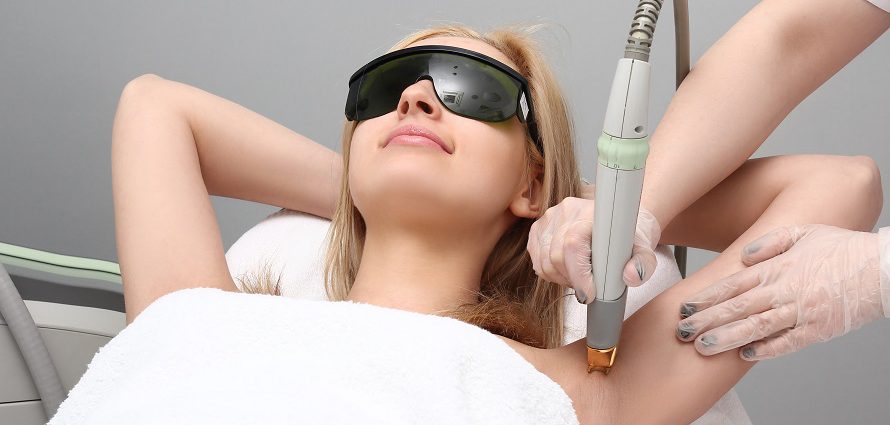 Reviewed by Mitchel P. Goldman, MD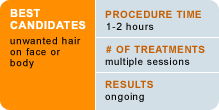 Imagine not having to deal with the tedium, frequency, expense, and pain of constantly getting rid of unwanted hair. Imagine a laser beam of light that can get rid of your unwanted hair, and keep it away for a long time. Sound too good to be true? It's not. Laser hair removal is here to stay.
Why Use a Laser?
One of the best ways to answer "Why use a laser?" is by illustrating why not to use other treatments. Here are a few reasons:
Remember tweezers, shaving, waxing, and depilatory creams? Their disadvantage is that hair usually returns within three to seven days.
Electrolysis provides longer-lasting results than conventional methods. For many, however, electrolysis is too painstaking as it treats one hair follicle at a time. Compared to electrolysis, laser hair removal typically requires fewer treatment sessions, less time per session, and minimal discomfort.
Oral medications such as Spironoolactone (a diuretic) and proscar have also successfully treated unwanted hair. But oral medications may not be appropriate for everyone.
Laser treatment can remove hair from many areas of the body, including the face, upper lip, bikini line, and neck area. The results of the laser can last for many weeks before hair is even slightly visible.
Results in the upper-body last from seven to 11 weeks.
Mid-body results last from ten to 16 weeks.
Leg treatments last from 11 to 17 weeks.
The Best Candidates for Laser Hair Removal
The best candidates for laser hair removal are fully able to comply with aftercare instructions, well-educated about the procedure, and have realistic expectations. Here are some criteria to help you decide if you are a good candidate:
Dark hair, light skin, and coarse hair are the easiest to treat. These patients typically see the best results and require fewer treatment sessions.
People with dark skin may not be ideal candidates for laser hair removal, but may still benefit from treatment. Under certain circumstances the procedure can be effective.
Blond, grey, and red hairs are more difficult to treat with a laser.
Tanned patients must wait until the tan fades before treatment.
Candidates who suffer from skin disorders such as psoriasis, cystic acne, and dermatitis are not ideal candidates for laser hair removal.
Candidates taking certain medications such as Retin-A or Accutane are excluded from treatment.
Treatment is not appropriate for people who have a pacemaker, who are pregnant, or who have metal screws in the area where the procedure would be performed.
The procedure does not necessarily result in 100 percent reduction of unwanted hair in the first treatment session. Multiple sessions may be needed.
The Laser Hair Removal Procedure
Laser hair removal is performed in a physician's office or laser hair treatment facility. Depending upon the extent of the treatment, time in treatment ranges from one hour to several hours. Keep in mind that multiple sessions may be necessary.
A numbing lotion will first be applied to the targeted area. During the procedure, a laser is used to dispense a fine intense beam of heated light that removes the hair follicles, but preserves the skin in the surrounding area. Unlike electrolysis, which requires the removal of each hair follicle, the laser scans a wide area of the body in the removal process.
Aftercare
Patients return home immediately following the treatment. Normal activities can be resumed immediately; however, exercise, Jacuzzi use, and sun tanning are not recommended for at least 24 hours. No waxing or depilatory creams can be used after laser hair removal.
After the procedure, patients are often advised to gently cleanse the treated area with a mild soap. Your doctor may prescribe a specific lotion that should be used after treatment. An antibiotic ointment and other topical lotions may be required in certain situations.
Most often, discomfort is minimal and does not require medication. Unmanageable pain, or the appearance of red or white bumps, ingrown hairs, or scabs should be reported to your doctor immediately.
Depending upon your personal anatomy, instruction compliance, the type of laser used, and the expertise of the treatment provider, healing begins within a few days of treatment. There will be a follow-up visit to the office for evaluation, and possibly a second treatment session. The number of sessions varies depending on individual characteristics and which area was treated. Additional sessions should not begin until hair has time to regenerate under the skin, which generally takes up to 12 weeks.
Complications and Risks of Laser Hair Removal
Complications are possible with any procedure, though rare with laser hair removal. Complications might include hyperpigmentation: a light or dark discoloration of the skin. Although this condition typically lasts for only a short time, in rare cases it can last for months or be permanent. Medicated creams can reduce dark discoloration. Blisters, burns, infection, and allergic reaction are also possible but rare complications. They can be treated with medicated ointments, creams, or oral antibiotics.
Consult a Qualified Doctor or RN
Consult a qualified doctor or licensed Registered Nurse who has certification in using a laser, and who has extensive experience and training specifically with laser hair removal.
During consultation, your medical history and overall health will be discussed. The treatment provider will also talk to you about additional or alternative treatments, and the risks associated with the procedure. Complications are uncommon and minimal, but risks do exist. The risk of complications can be reduced by selecting the right treatment provider. Pre-treatment instructions may include
discontinuing the use of beta-carotene
postponing treatment if you are taking a photosensitive drug
no tanning or the use of self tanning products
no waxing or depilatory creams
Laser hair removal is most often performed by a licensed RN. Dermatologists, plastic surgeons, and licensed physicians may also perform the procedure.
Laser Hair Removal Cost
Laser hair removal cost varies depending upon the doctor, where you live, the extent of the procedure, and other factors.
The annual cost for laser hair removal can be less expensive than waxing. Providers will often offer special treatment packages that may include a reduced fee for multiple sessions or a discounted fee if multiple areas are treated. After evaluating initial results, you and your doctor or RN can determine the optimal number of sessions required to achieve your expectations.
Since the RN or doctor will not know exactly how many treatment sessions will be needed, only a tentative cost estimate can be made. Keep in mind that each area responds differently to treatment. The upper lip may only require one treatment at a minimum rate of $100. But chin hair may require more treatments, at a higher cost. There may also be incentives if you decide to have the procedure done on the entire face instead of just the upper lip.
If the cost is too much to pay at once, ask your surgeon about monthly payments.
About the Reviewer of This Article
Mitchel P. Goldman, MD, is the founder and medical director of Goldman Butterwick Fitzpatrick Groff & Fabi: Cosmetic Laser Dermatology in San Diego. There, he directs the fellowship program accredited by the American Society for Dermatologic Surgery. He also is a Volunteer Clinical Professor in Medicine/Dermatology at the University of California, San Diego. Dr. Goldman is the 2013-14 President of the American Society for Dermatologic Surgery. He is founder and past president of the American College of Phlebology and past president of the San Diego Dermatological Society and the Sonoran Dermatology Society.