Body Contouring Plastic Surgery – Is It Right For You?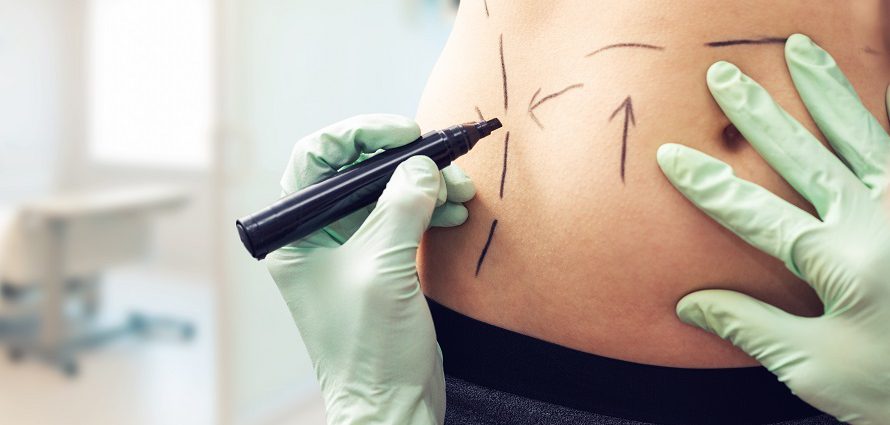 Are you considering body contouring? The articles in this Consumer Guide provide information on numerous body-shaping and contouring options.
You'll read about implants, redistributing body fat, panniculectomy, abdominal etching, labiaplasty, spider vein treatment, cellulite treatments, overall body lift plastic surgery, and much more.
Abdominal Etching
If you already have good abs, but they are hiding behind persistent excess fat and skin, then you may want to sculpt the area to bring out your hidden six-pack.

Learn more about sculpting your abs with abdominal etching.
Bicep and Tricep Implants
Bicep and tricep implants can do what arm exercises can't: they can add muscular definition and increased mass to your upper arms.
Learn more about how soft silicone tricep and bicep implants can improve the look and feel of your arms in our comprehensive calf implant article.
Body Fat Transfers
For a biocompatible and non-allergenic cosmetic procedure, fat transfers offer a natural way to touch up and round out the edges of small disproportionate body features.

Learn more about fat transfers.
Body Implants
Body implant treatment is a proven method of corrective plastic surgery. Today, a select few plastic surgeons are performing this procedure, which enhances muscular appearance and corrects imbalanced areas of the body.

Find out more about body implants.
Body Lift
Whether tightening up after massive weight loss following bariatric surgery (such as Lap Band surgery), or addressing the normal effects of aging or childbearing, a body lift ("belt lipectomy" or "lower body lift") is an excellent way to contour the abdomen, thighs, and buttocks.

Find out more about body lifts.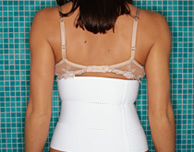 Bra-line Back Lift
A new bra-line back lift procedure that removes unsightly back fat rolls while hiding the scar under the bra-line may be the best way to banish sagging skin caused by aging, sun exposure or massive weight loss such as that which occurs after bariatric surgery.
Find out more about the bra-line back lift.
See for yourself what a difference the bra-line back lift can make on back fat rolls by viewing these before and after photos.
Butt Implants
Inspired by J. Lo and other celebs with curvy behinds, many women are opting for butt implants to augment their derrieres. Butt implants can also help reverse the effects of aging in your behind. Find out more about the many ways to enhance your booty in our article on butt implants and buttock plastic surgery.
Calf Implants
Many men and women are self-conscious about the size and shape of the calves. Men may crave more muscularly defined calves, while women often want their calves and thighs to appear more symmetrical. Either way, calf implants can help.
Learn more about what calf augmentation surgery can do for your legs in our comprehensive calf implant article.
Cellulite
Cellulite can result from hormonal changes, bringing physiological changes to the subcutaneous fat layer. Getting rid of cellulite has proven very difficult, with past treatments focusing on surface remedies. Cellulite patients come in all sizes.
Find out more about cellulite and treatments to get rid of it.
Zeltiq CoolSculpting
CoolSculpting reduces localized fat deposits in the abdomen, back and torso by chilling them to just above freezing. This non-invasive procedure requires no needles, anesthesia, or downtime. Learn more about CoolSculpting.
Labiaplasty
Cosmetic plastic surgery of the labia majora and labia minora, also known as labiaplasty, provides physical and psychological benefits for women. This highly specialized plastic surgery requires extensive experience and expertise. The few surgeons who are qualified, approach this procedure as an art, using refined techniques to produce customized results for each individual.

Learn more about labiaplasty and vaginal rejuvenation procedures.
Panniculectomy
Panniculectomy is a procedure to remove excess skin and fat in the abdominal region that generally reaches below the belly button, extending around to the back. This surgery — often performed after weight loss surgery such as gastric bypass — does not tighten muscle, as in abdominoplasty, but may be performed after abdominoplasty.

Read more about panniculectomy.
Thermage
Thermage is a non-invasive procedure that uses radiofrequency waves to lift and tighten skin in several areas of the body, including the stomach, arms, legs, butt and face.
Learn more about non-surgical Thermage.
Zerona
Zerona is a new non-invasive body contouring treatment that uses a low-level laser to melt fat, which is then passed out of the body. Reports of inches lost without surgery, pain or downtime have piqued interest in the procedure.
Check out a full report on Zerona and what it can and cannot do.