Micropigmentation: Permanent Makeup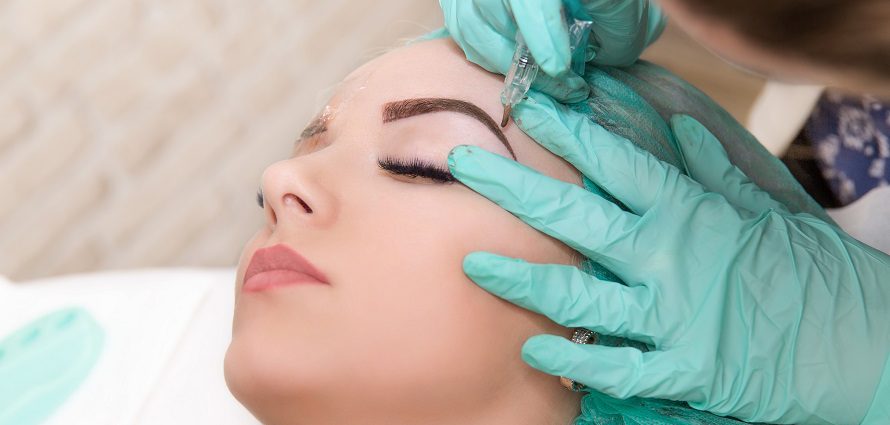 Reviewed by Kristanne Matzek, EdD
Micropigmentation, also known as permanent makeup, enhances facial features such as eyebrows, lashes, and lips, and improves conditions like scarring and uneven pigmentation. The treatment can also be used to reconstruct the nipple and areola area of the breast.
People typically choose micropigmentation either because they have physical limitations that make applying makeup difficult on a regular basis, or simply as a way to save time. People with alopecia, a form of hair loss, may choose micropigmentation to create an appearance of eyebrows where the hair has been lost.
Top 10 Reasons for Micropigmentation
Here are 10 reasons to get micropigmentation, according to the American Academy of Micropigmentation:
Convenience: Saving up to 100 hours a year in makeup application.
Non-Allergic: Certain skin types are easily irritated by traditional makeup.
Application Ease: People with medical conditions such as arthritis have difficulty applying makeup.
No More Smears: Micropigmentation resolves the smear problem.
Aging Changes: Micropigmentation can enhance the positives and mask the negatives. It is commonly used for uneven lip lines and discoloration areas of the skin.
Tearing Eyes or Irritated Eyes: LASIK surgery, contact lenses, and excessive time spent in front of a computer screen (read about computer vision problems) can all create reasons for micropigmentation.
The Outdoors: It can be tough to manage makeup application if you spend much time outdoors, whether you're an athlete or simply have an active lifestyle.
The Natural Look: Micropigmentation offers the "natural woman" look.
Hair Loss: People who have suffered from hair loss have benefited from micropigmentation for eyebrows, sideburns, and the hair line.
Skin Discoloration: Certain skin disorders, genetic traits, and deformities can alter skin color. Micropigmentation may improve an unevenly lightened breast nipple, cleft lip, or scars.
The Micropigmentation Procedure
Since the surface layer of the skin (epidermis) continually undergoes a natural exfoliation process, the color is tattooed on both the surface skin layer and the skin layer below (dermis layer). A topical anesthetic is applied before and after treatment to reduce discomfort. Tiny, metabolically inert pigment granules are implanted below the epidermis.
You can discuss the lightness and darkness options with your doctor. Typically, patients use a lighter color and return for additional treatment to darken the color if needed.
After Treatment
After the procedure, cool ice packs can be applied to reduce discomfort. Sun protection is important after treatment. If you have a history of cold sores, your doctor can prescribe medication to prevent a reaction.
After the procedure, always remember to advise any doctor throughout your lifetime that you have had the micropigmentation procedure. There are precautions and possible restrictions if you are considering cosmetic surgery or laser skin resurfacing. Precautions also must be taken when you have an MRI.
Complications and Risks of Micropigmentation
As with any cosmetic procedure, micropigmentation carries risks, which can include infection, removal problems, allergic reactions, granulomas, keloid formation, and MRI complication.
You should also be aware that inks and pigments used in micropigmentation are subject to FDA regulation as cosmetic and color additives, but the FDA has not attempted to regulate the use of the micropigmentation inks and pigments and does not control the actual practice of it.
Micropigmentation Is Not Quite Permanent
Micropigmentation has been referred to as permanent makeup. However, it is not permanent, for two reasons:
Aging can create discoloration.
Sunlight can reduce the strength of the color.
Consult a Qualified Treatment Provider
A board-certified doctor is the best person to help you decide if micropigmentation is right for your condition and whether it fits into your overall treatment plan. The doctor should explain the precautions and the extent of the procedure.
In certain cases, micropigmentation treatment providers require that candidates under medical care secure permission from a physician before undergoing a permanent makeup procedure.
Licensing requirements for micropigmentation treatment providers varies among states. In California, no licensing is required to perform micropigmentation. Other states require that the treatment provider be a professional of some sort who has undergone some training, ranging from the small amount of training required of a licensed tattoo professional to the vast amount of education required of a licensed medical practitioner. Some providers may receive a certificate after a weekend course in micropigmentation. Others may purchase equipment that offers a home video training course.
Some organizations have stepped in to assist in credentialing providers. Criteria for board certification by the American Academy of Micropigmentation and the Society of Permanent Cosmetic Professionals include a peer review process in which the treatment provider must take a written and oral examination. Micropigmentation is also performed by members of the American Society for Aesthetic Plastic Surgery.
Here are some tips for when you consult a micropigmentation treatment provider:
Check references, which may be obtained through friends, your doctor, the treatment provider, the American Academy of Micropigmentation, and the Society of Permanent Cosmetic Professionals. Online chat rooms may be another source of references.
Review the treatment provider's credentials and make certain that they are current. Ask about the type and length of training. Also, ask how many times the provider has performed the micropigmentation treatment you are considering.
View the provider's portfolio of before-and-after photos of micropigmentation patients, in order to help set reasonable expectations. Bring a photo of the result you would like to have.
Inquire about the type of equipment used, where the procedure will be performed, and the extent of the procedure.
Ask about possible side effects.
Micropigmentation Cost
The education level of the treatment provider can impact cost. The extent of the procedure can affect cost as well. For example, the cost to fill in eyebrows may be only $100. However, people typically want permanent makeup in several areas. The average cost of these multiple procedures can range from $300 to $1,500.
If the cost of micropigmentation is difficult for you, ask the facility about payment plans and medical finance options.
About the Reviewer of This Article
Dr. Kristanne Matzek is vice president of the American Academy of Micropigmentation.