Male Nose Reshaping Surgery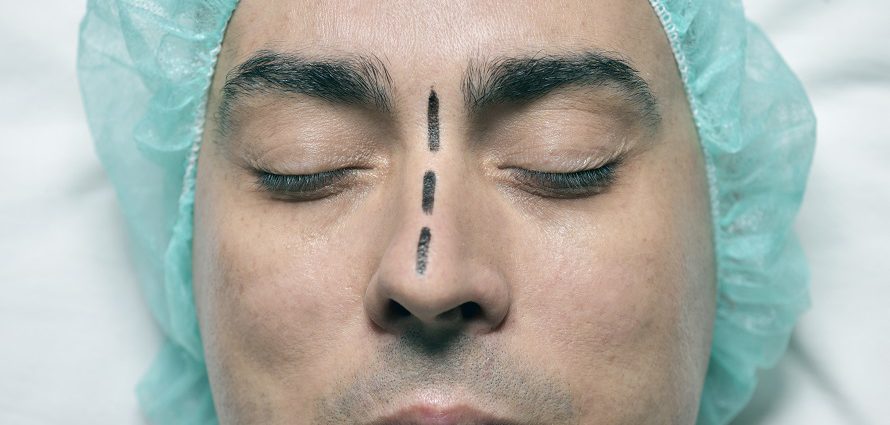 Reviewed by Barry L. Eppley, MD, DMD
More and more men are opting for nose reshaping surgery (rhinoplasty). Men often seek rhinoplasty for the same reasons that women do, namely cosmetic enhancement or functional concerns such as breathing issues.
Aesthetically speaking, men do not want their noses to be too small or upturned, as this may make their face look more feminine. Instead, men often request "strong, straight" noses that are in better proportion to the rest of their face. The actual rhinoplasty surgery, however, is comparable among men and women.
Are You a Candidate for Nose Reshaping?
Men seeking rhinoplasty should be in good physical health. Some adolescent boys may also be candidates for nose reshaping. This is only advisable after the nose has finished developing, which typically occurs around age 15 or 16 in males.
During your consultation, your board-certified plastic surgeon will examine your facial anatomy and listen to your concerns. If your surgeon feels that rhinoplasty will address these issues, he will develop a game plan. It is important that you tell your surgeon exactly what you are — and are not — looking for from your rhinoplasty. Show photos of noses you admire to make sure that you are both on the same page. Also ask to see before and after photos of other men who have undergone rhinoplasty before scheduling your procedure. Computer imaging can be very helpful to see what is and what is not possible.
You must follow your chosen surgeon's preoperative instructions carefully. These may include not taking non-steroidal anti-inflammatory drugs such as ibuprofen or naproxen and certain herbal therapies in the days or weeks leading up to your surgery. Such medications may increase your risk of bleeding during and after your nose surgery. Other instructions may include avoiding alcohol and quitting smoking (if you smoke).
Male Rhinoplasty: Special Challenges
While the actual surgeries may be similar, anatomical and psychological differences between the sexes do play a role in the recovery process. For starters, male facial skin is thicker. This means that swelling may last longer in men than in women. Thicker skin also has a richer blood supply, another factor contributing to prolonged swelling and some bruising.
Men have unique psychological issues. They tend to be more impatient about the long recovery process and the time it takes for the swelling to go down. It can be difficult for them to wait six months to a year for the final result. The length of male rhinoplasty recovery should be discussed in advance of your surgery.
How Much Does Male Nose Surgery Cost?
Male rhinoplasty is priced similarly to female rhinoplasty, ranging from $2,500 to $5,000 depending on the extent of the surgery and your geographic location. Nose reshaping surgery is considered purely cosmetic and not covered by insurance, unless it is being done for a congenital deformity such as a cleft lip and palate or from a documented injury. If the cost is prohibitive, ask your surgeon about available financing plans.
Choosing a Rhinoplasty Surgeon
Choosing a board-certified plastic surgeon with experience treating men will help ensure your satisfaction with the cosmetic and/or functional results of your nose surgery. Start your search for the right surgeon now.