Microdermabrasion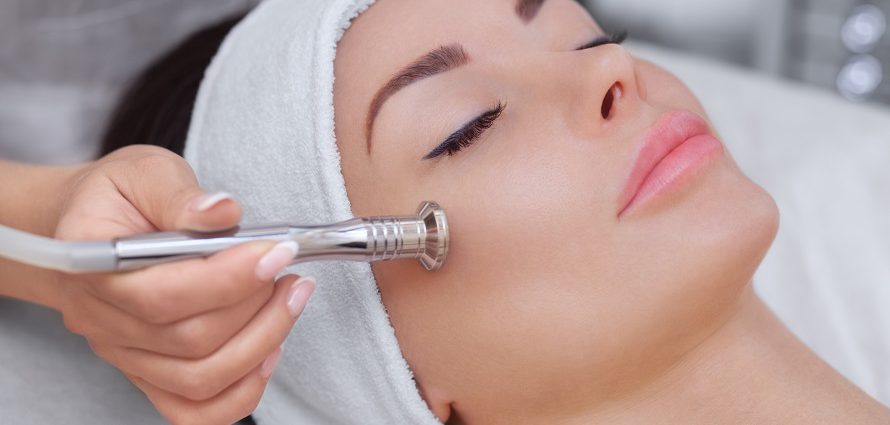 Reviewed by Linda Nelson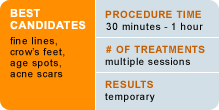 Microdermabrasion is a popular skin treatment that may improve signs of aging and sun exposure. It's a non-invasive, one-hour procedure for the skin on your face, neck, or arms, with virtually no recovery time.

The Best Candidate for Microdermabrasion
While microdermabrasion is most effective for patients in the early stages of aging, teens have also benefited from this technique. Microdermabrasion can reduce mild acne scarring and hyperpigmentation, and improve the appearance of poorly textured skin, fine lines, and large or clogged pores. The procedure is considered effective for both dark- and light-skinned patients.
Symptoms that Require Alternative Treatments
Microdermabrasion is not appropriate for people with
severe acne scars
advanced aging signs
sunburns
extensive hyperpigmentation (discoloration of skin)
skin disorders
sensitive skin
Consult a qualified surgeon about treatment for these more severe conditions. Some options may include laser scar removal, facelift, and other anti-aging or injectable treatments.
The Microdermabrasion Procedure
Prior to the procedure, the treatment provider will supply a list of instructions that must be followed for a number of days before treatment, including
no sun exposure
discontinuing the use of specific topical agents, such as Retin A
Microdermabrasion treatments are normally conducted without anesthesia in the practitioner's office.
During the microdermabrasion treatment, your practitioner presses a device against your skin, which causes a gentle abrasion through a fine crystal spray that breaks up dead skin and other imperfections. There are many materials that may be used, including aluminum oxide crystals, sodium bi carbonate crystals, diamond-tipped crystals, or salt crystals.
Manufacturers have also developed technology that does not require the use of crystals. In this case, a vacuum-type device removes the dead skin. The treatment works much like an exfoliation with vacuum action that removes imperfections, buffs the skin, enhances skin texture, and improves circulation and lymph flow. The treatment does not cause discomfort or skin laceration.
Your face may be slightly red for an hour after treatment. If redness appears for a longer time, contact your treatment provider immediately.
Multiple treatments may be required in order to achieve the results you're looking for. You'll need a daily skincare regimen and follow-up treatments to maintain the benefits.
Consult a Qualified Doctor
Before deciding on microdermabrasion, talk to a qualified doctor about treatment options. Plastic surgeons, dermatologists, and other physicians may have extensive experience with anti-aging facial procedures including microdermabrasion. Typically, licensed estheticians and RNs perform the majority of these procedures. Your doctor or treatment provider should help you understand everything involved in your treatment, including risks and likely results. Talking about your goals and understanding your options will help you and your doctor create the best treatment plan for your condition.
Before deciding on a treatment provider, be sure to ask about credentials, training, and how many times they have performed microdermabrasion.
Costs of Microdermabrasion
The cost of microdermabrasion varies depending on your treatment provider's skill and specialty. Estheticians and RNs generally charge less for this procedure than plastic surgeons or dermatologists. Keep in mind, however, that doctors are more qualified to identify skin conditions and recommend appropriate treatment.
The cost of microdermabrasion can range from $75 to $150 per treatment. You may need up to six or more treatments. Skincare maintenance packages may be offered as well.
About the Reviewer of This Article
Linda Nelson is the director of education for ZO SKIN HEALTH, by Zein Obagi, MD. She is based in Irvine, Calif.