Zeltiq CoolSculpting: Chilling the Fat Away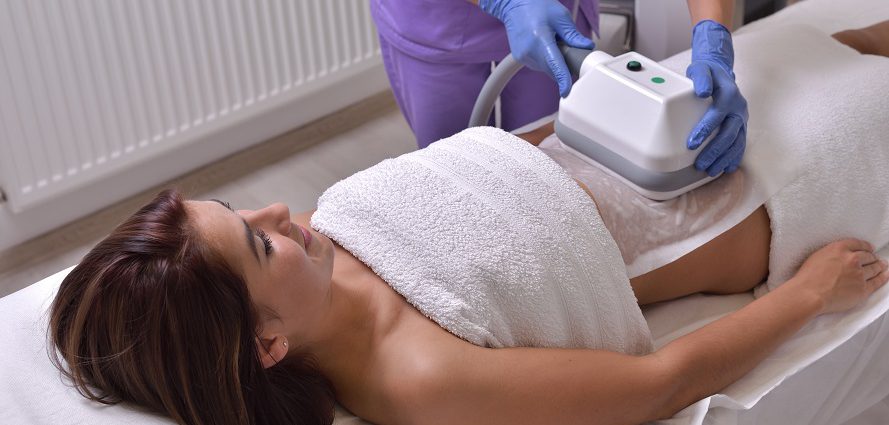 Reviewed by Lawrence S. Bass, MD
We've come to think of losing fat in terms of working it off through exercise and diet, suctioning it out via liposuction, or even dissolving it with chemical injections. Now there's another option: CoolSculpting.
Developed and marketed by Zeltiq Aesthetics, CoolSculpting selectively targets localized fat deposits — abdominal fat, love handles, back rolls, muffin-tops and bulges above Cesarean section incision lines — and reduces them by chilling them to just above freezing. It's done gradually, without causing any harm to the surrounding tissues.
CoolSculpting has been cleared by the Food and Drug Administration (FDA) for fat cell reduction as well as for several dermatologic applications that require cooling. The procedure was previously available in Europe, Asia and Canada.
CoolSculpting is based on the science of cryolipolysis, a term that combines "cryo" (icy cold) with "lipolysis" (the chemical decomposition of fat). The premise is that under carefully controlled conditions, subcutaneous fat cells are more vulnerable than other surrounding tissue to the effects of cold.
CoolSculpting differs from other fat removal procedures in a number of ways. For example, liposuction suctions fat cells out of the body, often destroying them first with fluid, ultrasound or laser energy. Lipodissolve accomplishes the same thing with fat-melting injections. Zerona uses low-level laser energy to open a pore in the fat cell, evacuating its contents.
Zeltiq CoolSculpting Procedure – What to Expect
The CoolSculpting procedure is usually performed by a plastic surgeon or dermatologist in his or her office and takes about one to three hours. The area to be treated is marked and covered with a gel pad to protect the skin. The physician then uses a hand-held vacuum applicator to gently draw the excess skin and underlying fat between two cooling panels. You will feel a firm pulling sensation and may feel mild cold in the treated area. This sensation will dissipate, and the area will become numb (much as it would if an ice pack were applied).
The cooling process lasts for a predetermined amount of time. It must damage the fat cells, turning fat within the cells from a liquid to a solid. The fat is naturally flushed from your body in the ensuing two months. There is no evidence that the procedure has any adverse effects on levels of liver enzymes or blood fats (such as cholesterol).
You will experience a gradual reduction of the fat layer, typically over two to four months' time.
There are no needles, no anesthetic, no surgical incisions, no pain medications and no downtime. Temporary side effects include redness, minor bruising, cramping, tingling or numbness in the treated area. The manufacturer says that people can enjoy leisurely pursuits like reading, listening to music, surfing the Internet — even napping — during the procedure, and can resume their normal routine the same day.
CoolSculpting Results
Company research suggests that the procedure can reduce the treated fat layer by 20 to 40 percent, adding that the average reduction is 20 percent. Additional CoolSculpting procedures can be performed after two to four months, resulting in another 20 percent reduction in the fat layer, according to a study presented at a meeting of the American Society for Laser Medicine and Surgery.
Visible differences in contour emerge after about three weeks, but the most dramatic results take up to two months to show. The results are considered permanent because the treated fat cells are eliminated.

Are You a Candidate for CoolSculpting?
Candidates for CoolSculpting should be within 10 to 15 pounds of their ideal body weight, with noticeable bulges or bumps that they'd like reduced. Patience is a must, as the results appear gradually, much like the results of diet and exercise.
CoolSculpting is not for everybody. If you are planning to lose a significant amount of weight, you should hold off on this procedure. Moreover, if you have already lost a massive amount of weight after bariatric surgery, you may need more invasive body contouring procedures, such as tummy tuck or panniculectomy, to get rid of the hanging fat or flab. Discuss your body contouring options with your doctor.
Zeltiq CoolSculpting Cost
As a cosmetic procedure, CoolSculpting is not covered by medical insurance. The out-of-pocket cost of CoolSculpting for fat cell reduction averages about $600 to $800 per treatment. Some doctors may lower the cost if you buy more than one treatment at a time or are re-treating an area.
Seek out a doctor who has completed the specialized training necessary to use the CoolSculpting device safely and effectively. Start your search now.
About the Reviewer of This Article
Lawrence S. Bass, MD, is the director of the minimally invasive plastic surgery program at the Institute of Reconstructive Plastic Surgery of the New York University (NYU) Medical Center in Manhattan. He is also a clinical assistant professor of plastic surgery at NYU, where he teaches a course on emerging technologies in plastic surgery. Dr. Bass is board certified by the American Board of Plastic Surgery and has served on the Device and Technique Assessment Committee of the Plastic Surgery Educational Foundation, the Nonsurgical Techniques Committee of the American Society for Aesthetic Plastic Surgery, and the Board of Directors of the American Society for Laser Medicine and Surgery.