Hair Transplants & Replacement – Will They Work For You?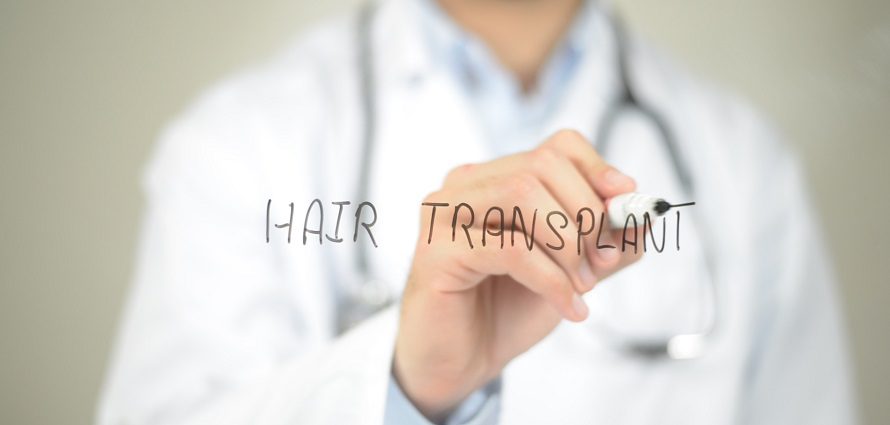 Reviewed by Robert V. Mandraccia, MD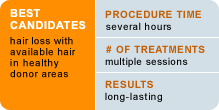 Hair loss is the bane of many an aging man's existence. One out of every three men in the United States has noticeable hair loss by age 35, and up to 80 percent are affected by age 70. Female hair loss is not as easily recognizable or common, but it does exist — just ask the approximately 25 million women in the U.S. who live with noticeably thinning hair.
Male pattern baldness refers to the onset of a receding hairline and thinning crown, while female pattern baldness affects the whole top of the head. Hair loss in both sexes is most often the result of genetics, but hormones, aging, stress, illness and poor nutrition also play a role.
Hair loss can make anyone feel self-conscious, so it's not surprising that many people opt for hair loss treatments so they can feel better about themselves. Done correctly, hair transplants can boost self-esteem and help people appear markedly younger.
Hair transplantation consistently ranks among the top five most popular cosmetic procedures among men in the United States. This trend will likely continue, particularly as men increasingly find themselves competing for jobs against candidates who are half their age.
Hair Today, Gone Tomorrow
Many different types of hair transplantation procedures are available today. One of the newer and more popular procedures is known as micro-hair transplantation. Gone are bulky hair plugs of yesteryear, replaced by individual hair micrografts. Micro-hair transplantation is similar to more traditional hair transplantation, but surgeons now use individual hair follicles instead of large clumps of hair to get better, more natural-looking results.
The newer micrografts create a more natural looking head of hair. This is because of a two-step process that involves follicular unit extraction and follicular unit transplantation.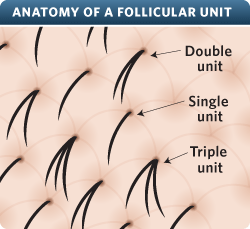 A follicular unit is a small bundle consisting of one to four hair follicles and the oil glands, muscles and connecting tissue that surround and support them. Follicular unit extraction involves obtaining follicular graft units from donor areas on the scalp, while follicular unit transplantation involves transplanting the follicular unit into the scalp.
Most micro-hair transplant procedures are performed under local anesthesia, but a variety of modern sedation techniques, including various levels of general anesthesia, may be used for more extensive procedures. Hair transplants are typically performed on an outpatient basis at a freestanding surgery center, doctor's office or hospital. The procedure may take several hours to complete. Multiple treatment sessions may be needed over the course of two years.
During the transplant, microscopic segments of the scalp (grafts) which contain natural groupings of hair from the donor area are removed and then inserted into the balding area.
Besides micrografts, there are several other types of grafts that vary in size and shape. Slit grafts, which comprise one to five hair follicles, are inserted into slits in the scalp. Circular punch grafts containing 10 to 15 hairs — often referred to as "plugs" — are rarely used anymore. Likewise, strip grafts with up to 40 hairs, which were the norm a few decades ago, are almost never used today.
Preparing For Your Hair Transplant
The first step toward a fuller head of hair is a consultation with an experienced physician such as a board certified plastic surgeon or dermatologist.
During this visit, you will be asked about your expectations, previous experience with hair loss treatments, past scalp surgeries and any other co-existing medical conditions such as diabetes, cardiovascular disease and asthma. Your doctor will also take a complete medical history and may order some blood tests to determine if you are a candidate for hair transplantation. The ideal candidate should have healthy existing hair on the back or sides of the head for grafting purposes.
Remember to tell your doctor about any medications and supplements that you are currently taking, including over-the-counter medications, vitamins and herbal remedies. These products can affect your blood's ability to clot and may negatively impact the outcome of your hair transplant. Excess bleeding may affect the grafts' ability to survive and may result in an infection at the donor site.
Your surgeon will provide you with a comprehensive list of preoperative instructions. This list may include stopping the use of certain medications and supplements and starting antibiotic treatment before the procedure to reduce your risk of infection. Other instructions include avoiding the consumption of alcohol for seven days before a hair transplant since alcohol acts as a blood-thinning agent and can interfere with wound healing.
Finally, you will need to shampoo your hair the night before your procedure.
Hair Transplant Aftercare
Your doctor will give you a complete instruction list that you must follow to reduce the risk of complications after hair transplantation.
You should not attempt to resume normal activity for several days. This helps prevent the transplanted hair from falling out. Normal activity, including exercise, can usually be resumed after seven to 10 days. It is always best to seek the advice of yourdoctor for specific instructions. Your doctor may prescribe oral and topical medications to relieve minor discomfort, bruising and swelling.
It takes approximately five days for the transplanted hair grafts to settle permanently into the recipient sites. Small scabs or crusts will develop where the hair grafts were inserted. Do not pick at or disturb these scabs as this may cause the transplanted hair follicles to become dislodged. Scabs or crusts tend to drop away naturally within 10 to 14 days. The transplanted hair stubble will often fall out within a few days to six weeks, but regrowth is expected to occur within three months. It can take up to 18 months to see full growth.
The results of hair transplantation are permanent.
The Complications and Risks of Hair Transplantation
There are risks associated with every medical procedure, especially micro-surgeries involving human tissue. Possible complications of hair transplantation include infection and scarring. There will likely be numbness in the donor and recipient sites, which typically subsides within three months but may last for six months to a year following the procedure. There may also be skin discoloration in the affected areas as well as an uneven appearance or dimpling of the skin. Both of these conditions tend to dissipate within a few weeks after the procedure. Some people experience nausea and vomiting after the procedure due to the medications used. Less than 5 percent experience bleeding after the procedure.
Consult a Qualified Surgeon
Board certified plastic surgeons and dermatologists are the specialists with the most hair loss treatment experience. To make sure you choose the most appropriate specialist, review the doctor's credentials, education, training and certifications by recognized professional medical societies. During your consultation, discuss your specific hair transplantation procedure and its risks and possible complications with the surgeon. View before-and-after photos of patients with similar conditions who received the hair restoration procedures you are seeking from the doctor you are considering.
Hair Transplantation Cost
Each hair transplant case is highly individualized, which makes it difficult to estimate costs in general. The procedure usually comprises three costs: anesthesia fees, facility fees, and surgical and support staff fees. You can expect the minimum average cost of total fees to range from $3,000 to of $15,000 for major surgical hair restoration. You may need three or more procedures to obtain the desired effects.
Hair transplants are rarely covered by insurance; however, payment plans are fairly common. For financing options and tips, continue reading about patient financing.
About the Reviewer of This Article
Robert V. Mandraccia, MD, graduated from Temple University Medical School in Philadelphia, where he also completed his internship. Dr. Mandraccia did his general surgery residency at Temple, and his plastic surgery residency at the University of Oklahoma in Oklahoma City. He is now in private practive in Cape Coral, Fort Myers and Bonita Springs, Florida. A member of several prestigious societies including the American Medical Association, the Lipoplasty Society of North America, the American Society of Plastic Surgeons and the American Society for Aesthetic Plastic Surgery, Dr. Mandraccia is also a fellow of the International College of Surgeon sand board-certified by both the American Board of Surgery and the American Board of Plastic Surgery.