Meet the Newest Toxin in Town – Evolus' Jeuveau Scores FDA Approval Will others follow?
Written by Ceatus Media Group Last modified on August 22, 2019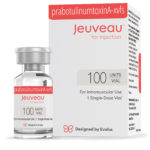 In the past few years, we have seen filler after filler after filler approved by the FDA, each with various nuances. But the neurotoxin space remained relatively dormant…that is until earlier this year. For the first time in nearly a decade, there's a new toxin in town: Evolus' Jeuveau.
In early February 2019, Jeuveau scored the coveted FDA nod for smoothing moderate-to-severe glabellar lines (also known "frown lines" or "11's"). This new-kid-on-the-block joins three other FDA-approved neuromodulators: Botox, Dysport and Xeomin. The other FDA-approved toxins also have therapeutic indications, but Jeuveau is aesthetic only.
Jeuveau is a botulinum toxin type A (or more specifically a proprietary 900 kDa purified botulinum toxin type A formulation). It was developed by South Korean pharmaceutical company Daewoong and first introduced to the Korean market in 2014 under the name Nabota.
Experts say it is very similar to Botox and lasts about as long (three months), but may be priced between 20 and 25 percent lower.
While Jeuveau was the first to score FDA approval, there are other neurotoxins in the pipeline. There were rumors flying about a topical form of botulinum toxin that would appeal to needlephobes (and there is still some buzz) and several companies are working on longer/shorter acting toxins; some with quicker onsets of action, and other nuances.
For example, Revance is developing a novel neuromodulator which may last six months according to research. This means twice-yearly visits to your doctor instead of three or four for maintenance shots. Botox manufacturer Allergan recently purchased Bonti to obtain global rights to their botulinum neurotoxin serotype E products. Their aesthetic candidate starts working within 24 hours and results lasts for 2-to-4 weeks. It is a gateway to Botox that may allow users to try before they buy or get red carpet ready quicker due to the faster onset of action.